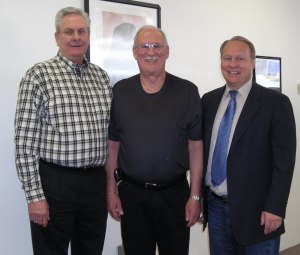 Pioneer Printing is one of the oldest businesses in the West. Established in 1869 by S.A. Bristol it has been through only a handful of owners in its long life. This is because at Pioneer we have a passion for printing, we value loyalty and we aren't going anywhere!
This is evident as the recent owner, Jerry Ziemann, was the production manager for 25 years before purchasing the company in 2003. Jerry embraced his new role with enthusiasm to contribute to Pioneer's tradition of excellence.
Pioneer has always been at the forefront of the printing industry. Even in the 19th century Pioneer was pushing the envelope in printing technology. In 1890 the first monotype machine in the west was brought by horse and buggy to Pioneer Printing. Monotype was the first machine of its kind invented to replace hand setting.
Today, Pioneer still boasts first class equipment. We continue to keep up with the ever changing printing industry and have outfitted our shop from prepress to bindery with the most up-to-date equipment available. Check out our Services section for a complete list of our equipment.
Choosing Pioneer means choosing over a century of experience, passed down through generations of printers dedicated to giving you the best product available, on time, every time.